Carolin on Equal Opportunities
Hi Gauchos
My name is Carolin Hohmann, I am from Germany and studying at UC Santa Barbara for this full academic year to finish my Masters.
Right now, I am sitting on the terrace overlooking the wonderful lagoon on campus and am so grateful to study at this unique place; the proximity to the beach and the mountains is particularly inspiring. I also got to know wonderful people and the students at UCSB are incredibly open so it is easy to make friends. I wouldn't trade these experiences for anything!
In Germany, I volunteer for equal educational opportunities and think that access to education should not depend on financial background. Naturally, I was interested in seeing if and how this goal is reached in the US. I have outlined what I have learned in this summary and draw comparisons between the support systems in place in the US and in Germany.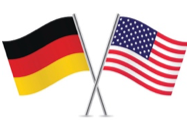 Striving for more equal opportunities is not only a major issue in Germany. The University of California (UC) school system, in particular, is committed to ensuring that every qualified student who dreams big and works hard has the opportunity to graduate from the highly respected public university system regardless of income. At UCSB, the financial aid plan for new freshmen is $25,969. About 64.0% of new students get some money for college, most of which is in the form of scholarships and grants. 
In Germany, students can receive financial aid by applying for BAföG. The acronym BAföG stands for "Bundesausbildungsförderungsgesetz" (yes, the German language loves compound words) and refers to Germany's Federal Training Assistance Act for students at secondary schools and universities. In Germany as a whole, 18% of all students currently receive BAföG, i.e. approximately 88,700 students. The maximum rate is (from August 2019) $936 per month. In contrast to UC scholarships, such as the Blue and Gold Opportunity Plan, students receive monthly money to pay tuition fees, rent, and other costs. This is because tuition fees in Germany are very low; students pay a maximum of $650 per year.
Although both countries have different school systems and access to college is subject to different requirements (in Germany, for example, only the grade point average is relevant, whereas the academic history, personal insight questions, awards, internships and volunteer work are also taken into account at UCSB), both countries are committed to ensuring that people have the opportunity to study regardless of their financial background. The following comparison shows some differences despite the common goal.
Who?
BAföG in Germany is available to people who cannot afford to study without financial support because their parents have a low income (max $2,046 per month). If the parents earn more, students can still receive BAföG at a reduced rate. People who are recognized as refugees in Germany can also be supported.
In the US, there are different possibilities of financial support in different states. For my research, I met Fernando who is a third-year economics and accounting student at UCSB. He receives financial support through UC's Blue and Gold Opportunity Plan that ensures students are not required to pay UC's systemwide tuition and fees out-of-pocket. The prerequisite is that a student is a California resident whose total family income is less than $80,000 a year. Students must also be in their undergrad and enrolled at least half-time (6 units).
How much?
Students in Germany who receive BAföG have a maximum of $936 at their disposal per month to pay for tuition, rent, food, books, and other costs. Students are allowed to work while studying, but may earn a maximum of $504 per month. If students earn more, the BAföG award is reduced. The same applies if students have more than $8,406 savings. One drawback of the BAföG is that students receive equal support regardless of where they live. This is unfair because studying in Munich, for example, is considerably more expensive than in smaller cities: students pay an average of $673 for a room in a shared apartment, leaving little of the BAföG to cover other costs. The Education Minister Anja Karliczek argues that a geography-independent BAföG award is justified because a student "does not have to go to the most expensive cities". However, such an approach does not solve the problem of unequally distributed educational opportunities but rather reinforces them. BAföG is an interest-free bank loan scheduled to increase to $965 per month in 2020, only half of which must be repaid. The maximum amount to be repaid is $11,210 and students do not have to repay it until 5 years after graduation. In addition, students can receive "Auslands-BAföG" if they would like to study abroad. Because the costs of studying abroad are often significantly higher, financial support is also greater.
Unlike in Germany, students in the UC's Blue and Gold Opportunity Plan receive financial support each quarter. Estimated average costs for California residents in 2018-19 are $35,300 per year (living on campus). UC currently provides grant and scholarship assistance averaging over $16,000 per student to more than half of undergraduates. UC expects students to cover part of the cost of attendance through working and borrowing. Parents are expected to contribute based on their financial resources and circumstances. Fernando says that his school fees are completely covered, but he is still partially dependent on his parents for rent, books, and other costs.
How (application process)?
In order to receive BAföG, students must complete an application that asks for their own income and income of parents. Financial evidence from the last two years is relevant. Usually, students do this after they have finished high school and want to go to college.
The procedure for UC's Blue and Gold Opportunity Plan is similar. Fernando explains, however, that American high schools staff counselors who help students with college applications.
While free in Germany, prospective students in the US often must pay fees for university applications. Those who come from a low-income family are entitled to receive financial support to defray the cost of applications, which made it possible for Fernando to apply to 4 California State Universities and 4 UCs for free. He was accepted to different schools but chose UCSB because of the good reputation and the great environment. After Fernando was accepted at UCSB, the counselor helped him by applying for financial support. Fernando learned about UC's Blue and Gold Opportunity Plan that now enables him to study at one of the most renowned public universities in the United States. Despite this individual support, Fernando sees the potential for improvement. There was only one counselor for his entire grade, so comprehensive and individualized counseling was not always possible.
Why?
Despite some differences within the programs, Germany and the US offer financial help for students from low-income families to finance an education that corresponds to their interests, vocations, and talents. Aid in both countries mitigates the effects of family, financial, ethnic, religious, social, and racial background on educational attainment. As a top 5 school in US News and World Report's 2019 listing of the "Top 30 Public National Universities", UCSB sets an inspiring and positive example: 70% of UCSB undergraduates apply for financial aid, 76% of financial aid applicants receive UCSB Scholarships, and 95% of UCSB Scholarships are awarded to on-time applicants.
Even though there is certainly potential for improvement (both in Germany and in the US there are still students who cannot go to college despite the financial support), scholarships of this kind are important to contribute to a fairer society in which education is recognized as a central component of a progressive, educated and egalitarian society.
- Carolin Hohmann
Carolin's Social Media:
 
August 14, 2019
Related topics